We LOVE all the trendy nail colors that come along throughout the year-but as often happens in our lives, we pondered how we can possibly get away with wearing them to work, while maintaining a professional image? With the exception of a few truly crazy styles, and jobs where you can't wear nail polish for sanitary reasons, we believe many styles are possible. Below are a few tips we have on enjoying nail trends, while keeping it work appropriate for conservative employers.
1.) Keep your nails short, and rock a natural nail shape
We have all seen those long pointy (aka stiletto) nail trends lately, and if your employer/workplace is conservative, these are likely not appropriate for the work setting. However, many nail colors look appropriate when nails are kept short and have a more natural nail shape (oval, squoval, square, oval, almond).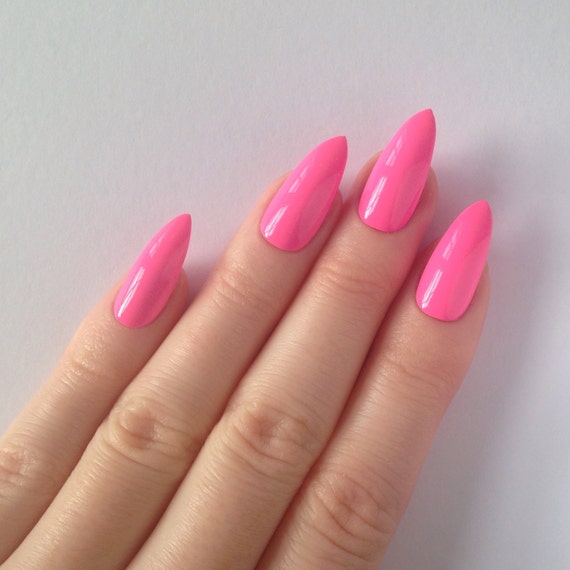 Stiletto nails are a bit to risky for conservative workplaces, and not functional in the health care setting.
But a similar color looks appropriate with short, more natural nail shape.
2.) Keep your nails chip-free
I know this is a hard one, believe me. We've all spent an hour painting our nails, another hour not touching anything, and then chipped a nail two days later while catching a falling technological device, or admittedly doing something non-girlie like working in the yard. You're thinking, "it took so long to do my nails, I'm just going to overlook it." If it is the first small chip in a natural nail color that blends in, you may be able to get away with it for another day, but I've heard several female mentors say that chipped nail polish is more unprofessional than no nail polish at all. So don't risk it. Some options for keeping your nails chip-free include: splurge on gel nail polish that won't budge unless you grate them across concrete, remove the color and call it quits for the week, or check out this unique post on how to repair a chip. We may or may not be fans of settling in for the Bachelor/Bachelorette (or at this time of year, with some hefty school/work reading assignments) and dedicating that time to nails each week. We all know a little polish goes a long way to brighten your week!
3.) Avoid the glitzy/3D/nail jewelry
It is very hard to make nail piercings, 3 dimensional art, or rhinestones/glitter professional enough for work. Our general rule is not to do it. It's also very hard to keep clean! But if you must, consider this adorable tiny metallic stripe on a nail for a little extra flare.
Love the tiny gold stripe, but would limit to one nail (ring finger).
4.) Consider your colors
While following the rules above, many colors can be conservative enough for the workplace. However, if you are concerned about an electric blue, consider toning it down with a nice navy, or a more natural, very pale blue that won't distract from all the wonderful things you are at work to do!
Any tips you have for work-appropriate nails? Feel free to share below!